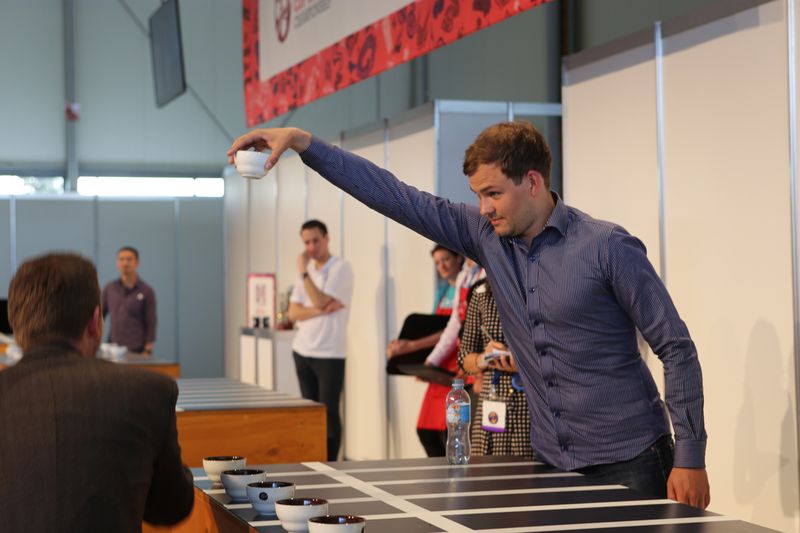 An interview with Swedish Cup Tasters Champion, Patrik Nilsson
We're quickly approaching the upcoming World Cup Tasters Championship, this year hosted alongside the Latte Art, Coffee in Good Spirits and Ibrik Championships in the wonderful capital city of Germany, Berlin. As competitors from all around the world prepare to take their respective disciplines to the world stage, we caught up with two time Swedish Cup Tasters Champion Patrik Nilsson to catch brief glimpse of his preparations, as well as hearing a little bit about what he's getting up to in the months since his success in the nationals.
- It has been a few months since your 5th National Championship performance. What have you been doing since you became the Swedish Champion for the second time?
I packed my bags and moved to China two days after the National Championship. I am currently learning Mandarin, all the while concluding an MBA, my second Master's degree.
- As this will be your second time on the international stage, how does your approach to this particular event differ from your 2014 preparations?
My preparations for World Cup Tasters 2014 were meagre, to say the least, yet I made it to the semi-finals. A coffee roaster in Gothenburg, Per Nordby, was kind enough to sponsor me with some coffee before the competition.
The next year, 2015, I wanted to compete in the World Cup Tasters again. Although I practiced a lot, with similar origins and process methods, even using the same coffee beans with slightly different brewing ratios, I finished 3rd in the National Championship 2015 - my worst performance to date. At the end of the day, I was thinking too much.
Lately, if anything, I have been more mindful about the coffees that I drink. I try to enjoy and reflect upon what I am drinking rather than gulping my brew down while my focus is elsewhere. My coffee drinking has also been highly diverse lately - different roasters, bean origins, and process methods.
- Many coffee professionals find the Cup Tasting Championships to be the most exciting live events to spectate. As a competitor, do you find that the atmosphere when you are competing can have any impact on your composure or performance?
During the competition, I try to ignore the crowd while staying as calm and focused as possible. The atmosphere fuels adrenaline and I try to feed off of it. Some adrenaline benefits your flow and heightens your perception; too much makes you flustered. That being said, I feel that the Cup Tasters is not as recognised as some of the other coffee competitions and I am happy that it attracts such supporting crowd and atmosphere.
- We have probably spent more of our time together discussing the qualities of beer and wine rather than cupping attributes, are there any overlaps between your work as a sommelier and your participation in coffee competitions?
There is very little overlap between my work as a sommelier and participating in cupping competitions. My work as a sommelier is highly social. The work entails figuring out my guests drinking and service needs and further how satisfying them. Cupping competitions, on the other hand, are internal - it is just me, my palate, and 24 cups of coffee.
My connection, rather, lies within my interest in sensory experiences and sensory analysis. The gustatory quality of wine brought me into the food and beverage industry. While captivated by wine, a dear friend of mine introduced me to specialty coffee 2011 and I have been a coffee enthusiast ever since. Having trained classically as a sommelier, with both a Bachelor's and Master's degree in Wine, and WSET Diploma, I have essentially spent the past eight years calibrating my palate. Consequently, I think I approach coffee tasting with a different sensory framework than most baristas. Since 2011, the sensory training of coffee industry people has developed substantially - through seminars, guidelines, methodologies, Q grader workshops, and so forth – and the progress is exhilarating. Sensory education is vital to any industry that involves our perception of smell and taste.
 - How does the sensory lexicon of the WSET compare to that of the SCA? Do you sometimes feel as if you are required to be multilingual?
This is something I could spend hours talking about. In terms of just vocabulary, both the SCA coffee flavour wheel and cupping forms have similar aroma and flavour descriptors to that of the WSET methodology; nevertheless, said aromas and flavours do not mean anything unless you can be objectively trace the origin of the said descriptor. What we individuals smell and taste when we eat and drink is composed of chemical compounds. Several of these chemical compounds overlap in both wine and coffee. Both, for instance, contain pyrazines in various compositions, a compound that can be perceived as green and vegetative.
Methodologies in the wine industry are developed and precise, and with the use of them, it is possible to systematically anatomise a wine and assess its quality. The coffee methodologies available free on the Internet are oftentimes idiosyncratic. Coffee individuals usually evaluate aroma and flavour on a spectrum from very poor to outstanding, whereas both aroma and flavour can be broken down in further detail – for instance, aroma and flavour descriptors, their intensity, as well as the brew's overall complexity. You can depict acidity with reference to both level and its nature. The list goes on.
Far too often, I catch unknowing wine industry people chatter at lengths about nonsensical obscure fruits and their ripeness, with a touch of minerality. When was the last time you had overripe kiwano? In coffee competitions, I have learned that baristas occasionally describe their brews as having a brown sugar sweetness and blueberry acidity. There is no such thing as blueberry acidity. Blueberries contain mostly citric acid. Acidity in coffee, for the most part, consists of citric, malic, acetic, and quinic acid. It is no wonder people find food and beverage professionals pretentious at times. Having said that, the systematic approach to tasting wine is not perfect either and WSET has failed to adapt their methodology since the (re-)emergence of natural wines.
- Beside your success in cupping competitions, you have also competed in wine. Can you tell me more about your competitive nature?
Yes, I am very competitive. Whenever I find something I like, whether it be wine or video games, I pursue that interest with everything I have. While studying wine at the School of Hospitality, Culinary Arts and Meal Science in Grythyttan, Sweden, I entered in two national wine competitions together with my friends Daniel and Elin. First, we won Rioja Sommelier Awards 2012 and later the Swedish Championship in Spanish Wine Knowledge 2013. Soon after, I won Robert Mondavi Diploma 2013, a wine competition that focuses on Californian wines and the wine icon Robert Mondavi, sponsored by Constellation Brands.
- How would you compare competing in wine and coffee?
Sommelier competitions involve a wide array of tasks. A blind tasting often follows a written theory test. In a service element of a wine competition, sommeliers may be asked to decant and serve a bottle of wine while suggesting food and beverage pairings. It is important to note that wine is not the one and only focus in wine competitions. Sommeliers frequently have to demonstrate their knowledge of things like cheese, spirits, chocolate, cigars, beer – even coffee. In the Swedish Sommelier Championship 2015, the final competitors had to cup and distinguish three triangles of coffee, just like in the World Cup Tasters. For that reason, sommelier competitions are similar to that of the Barista Championship, where competitors are required display a wide skillset – making espresso, pouring latte art, and composing a signature drink, while simultaneously giving a presentation. Although, whereas barista championship presentations are scripted down to every minute detail and word, the format of wine competitions forces the sommeliers to always stay on their toes and improvise.
The task that focuses on sensory evaluation in wine competitions is blind tasting. Sommeliers will describe, in written or verbal form, a wine's visuals, aromas, characteristics, quality assessment, how they would like to serve the wine and suggest a food pairing for it. All the way through, the judges give the sommeliers points based on the accuracy of their assessment. Extra points are given in case the sommelier identifies the wine's origin, grape variety/varieties, vintage, and producer. This type of evaluation requires both wine knowledge and experience.
In the Cup Tasters Championship, the contestants rely purely on their sensory skill and sensitivity. Rather than describing the coffees' characteristics, the competition area echoes in coffee slurping as the contestants try to figure out the odd cup in the triangle. Coffee knowledge and experience is not essential but may help you determine which cup the odd one is. For instance, if you approach a triangle set and your first cup clearly strikes you as a naturally processed coffee, you can make use of that information while facing the other two cups.
- I know you do not want to give up your strategy, but what goes through your head when you compete in the Cup Tasters Championships?
I will try to be as brief as I can. First, I look for something that stands out about the cup – generally, a particular flavour that I pick up immediately and the overall profile the coffee (smooth, acidic, sweet, bitter, dark, etc.). If the triangle consists of similar coffees, I will then examine flavour intensity, the acidity, and mouthfeel/astringency. At times, I also study the level of perceived sweetness, which can be useful in sets with natural or honey-processed coffees. If the set requires even more scrutiny, I sometimes analyse how the coffee interacts with different sections of my palate, such as the mid-palate or finish. It is also worth mentioning that I do not use a spittoon, unlike the other contestants. Some competitors also smell their coffees before they taste. All of these strategies are highly individual and you need to figure out what works for you.
Other strategic techniques involve tasting every set in a particular order, rapid alternations, drinking water in-between cups and sets, and so forth. You have to make sure that the surface levels remain on a similar level as the taste of the coffees change as the temperature drop. Sometimes it is useful to put one cup aside and return to the set later when the coffees have cooled down. As for cupping strategy, I always go for accuracy rather than speed. I rarely push a cup across the line unless I am certain.
- As a sommelier, how do you view the results of experimental fermentation in coffee? We saw the greatest number of 'Carbonic Macerated' or 'Anaerobic Fermented' coffees ever at this year's WBC/WBrC, do you see this as a temporary trend or a sign of things to come?
I am in no position to make a trend analysis of experimental fermentations in coffee; nevertheless, I think many of these anaerobically fermented coffees yield in cups with characteristics and complexity that I have never experienced before – and that is always exciting. I hope that individuals in all parts of the coffee industry remain curious, research, and contribute to the diversity of coffee. I particularly look to coffee companies that have had the means to encourage and compensate farmers and process stations that experiment with new approaches and methods, paying them a higher price for their coffee beans.
- Have you had any recent bone-shaking sensory experiences that you would like to share with us?
I will mention three standout coffees I have had recently: Coffee Collective Bolivia Takesi Geisha, Cupping Room Gesha Village Lot 86 Natural, and Tim Wendelboe Kenya Karinga. As you know, I have a passion for traditional spontaneous sour beers from Belgium. A few weeks ago, I enjoyed one of my favourite Lambics in fabulous company - Golden Blend from 3 Fonteinen. I encourage you to find anything that is more complex than these beers.
Besides beverages, I am a huge foodie. Just across the street from my Chinese community Jingbei, in Shenzhen, there is a tiny street food stall that serves mei cai kou rou (梅菜扣肉) - fatty streamed pork belly, with salty and preserved mustard greens, rich sesame sauce, al dente egg noodles, and a dash spicy pickles. My first experience with this dish was nothing short of bone-shaking.

- Lastly, if you could not compete in Cup Tasters, what would be your second choice?
As a spectator, I am constantly wowed by the excellence of these outstanding baristas and roasters, and I have no interest in competing against them. Maybe the AeroPress Championship. My latte art skills are poor, but I make a mean AeroPress. I also find the atmosphere to be similar to that of the Cup Tasters.
- Thank you Patrik for your time, and your wonderful insight into the mind of a competitor. We look forward to seeing you up on stage in Berlin.