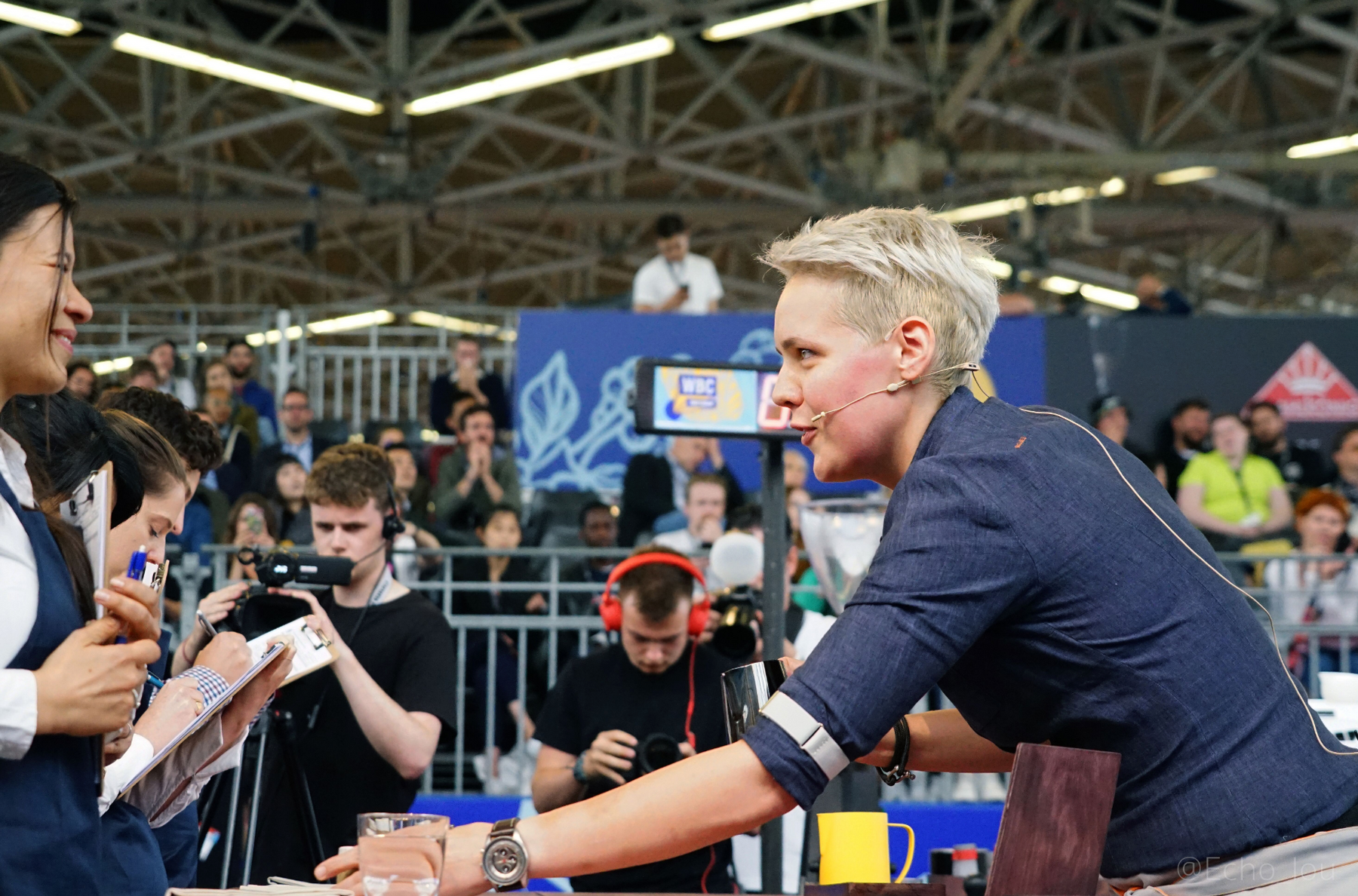 How I won the World Barista Championship, an interview with Agnieszka Rojewska.

As most of you that will read this already know by now the World Barista Championship was held in Amsterdam earlier this year. For us, it is one of the highlights of the coffee year, always a great source of inspiration and motivation. I think competitions have that effect on people and it's fair to say that the competitors this year set the bar very, very high.
Best of them all and newly crowned World Barista Champion 2018 was Agnieszka Rojewska, Barista Champion of Poland. We here at April want to understand more about her process and what was behind her victory so we asked if she would be interested in doing an interview with us and she said yes.
Instead of starting with the obvious question, "how does it feel to be the best barista in the world?", we will get to that later, I want to know when and why did you decide to start to compete in coffee?
I started to work in coffee 10 years ago. It was a pure accident, I was just looking for a part-time job for the summer. I got a job in a coffee chain at a railway station and there the person in charge of quality control sent an application for an internal competition without asking my permission, so... it wasn't my decision. But I did it. I'm not a "stage person", I'm actually afraid of big groups of people, and I know it is hard to believe but to be able to get up on stage in the World Barista Championship 
I had to work pretty hard on myself.
I noticed that my first competition I did allow me to develop my skills a lot in a very short period of time, so I decided to try again. And I just kept going from there.
You have been competing for many years in several different competitions, investing countless hours in practice. What is your main motivation for competing? Where do you find your drive?
Self-development. I'm not only talking about the coffee skills I also learn a lot about myself when practicing and competing. 
I'm mainly a barista trainer, I have plenty of classes and most of them are on a basic level. At a point, I noticed that I didn't keep up with what was happening in the industry and to be able to do that I pushed myself to compete. Because when you compete you not only keep up with the trends, but you try to push beyond them. 
The thing I'm most afraid of is that I will stop developing which keeps me pushing forward.
How did your process look like between winning the national championship up to the World Championship? Picking competition coffee, coaching, and practice. 
I didn't expect to win the nationals... so I didn't secure a competition coffee for WBC. I had a backup plan, but then I got a phone call from Project Origin and Ona Coffee, they wanted to support me with coffee. So that took care of that problem and after two weeks they called again confirming that Sasa wanted to coach me. 
I am sorry to interrupt but I have to ask. What went through your mind when you got that phone call, Sasa (former World Barista Champion) telling you he wanted to be your coach? 
It actually was a "prank day" in Poland so I assumed it is a joke at first. Then I became excited and scared at the same time. I wasn't sure if I was good enough to be coached by him.  
Moving on. We picked the competition coffee together. They showed me the best options, we tried them and picked an
 Ethiopian Heirloom from the Masina village in Guji. Processed by an experimental process, washed carbonic maceration. It had an incredible tactile quality and a lot of tropical fruit flavor notes
.
 We didn't have time for a lot of deliberation about which coffee to choose, but the coffee was so good that we didn't have to look further.
Practice is a different story. I don't have a regular job, so I'm mostly driving or flying around which makes regular training very hard. But Sasa was very strict so I needed to schedule training in a way the I was able to send him a video every day. We talked a lot and with every day I was adding some changes. It was pretty difficult to fit everything in for me.
What have been the most challenging part in the process up to winning the World Barista 
Championship? 
For me, resources were the biggest challenge. I'm not talking only about money. But it was hard to get a sponsor when all you can say about your previous achievement in WBC was 34th place, that was two years ago and nobody from Poland has actually been in the final before the best we achieved was the tenth place, but that was eleven years ago.
Time was also a big challenge, I don't have a regular job, so I don't have a regular income, I work when someone wants me to work, sometimes it means 15 days of work, other times 25 days, I could fly from China directly to a training in Warsaw, and then drive to get one day of practice. It can get really crazy. 
It's Saturday the 23 June and you are about to go up on stage for the last time. This time you're in the final. What goes on in your mind when you start your presentation time? Are you nervous? 
I wasn't nervous in the final. I guess the further I got into the competition the more comfortable I got. The most stressful part in the final was the set up of my presentation, especially the big table I used, after that, I knew that it was the last time I would do my routine so from that moment I woke up and just enjoyed the ride. I was enjoying it so much I lost my regular flow... 
I was a lot more nervous in the first round and in the semifinal. In the final, I was excited and enjoyed every second of it. 
Which part of your presentation were you the happiest with? 
I guess the signature beverage. I like the part when I drink the signature beverage with the judges, allowing me to really connect with them, and also how we managed to put knowledge into ingredients in an approachable way. 
I think one of the things that really stood out with your presentation was that your concept was really strong. Could you tell us more about that, what was the process behind it? And how did you make sure that the judges would understand it?  
We knew that the problem in my previous World Barista Championship routine was that I didn't have a clear message. So we spend more than two days trying to make it as clear and simple as possible, we kept cutting down the material. We tried to make it so that even ten years old could follow and understand. I invited people outside of the coffee industry to watch and asked after the presentation I would ask what they thought it was about until we got to a point when it was obvious. 
How does it feel to be the World Barista Champion 2018? 
it is still pretty fresh so it is hard to say. When I call myself the Champion I still don't really believe it, I need to convince myself that I am not lying to myself. It is an amazing feeling, I'm just still scared that I will get an email from the World Barista Organization saying that they calculated points again and someone else won, just like at the Oscars 2017 :)