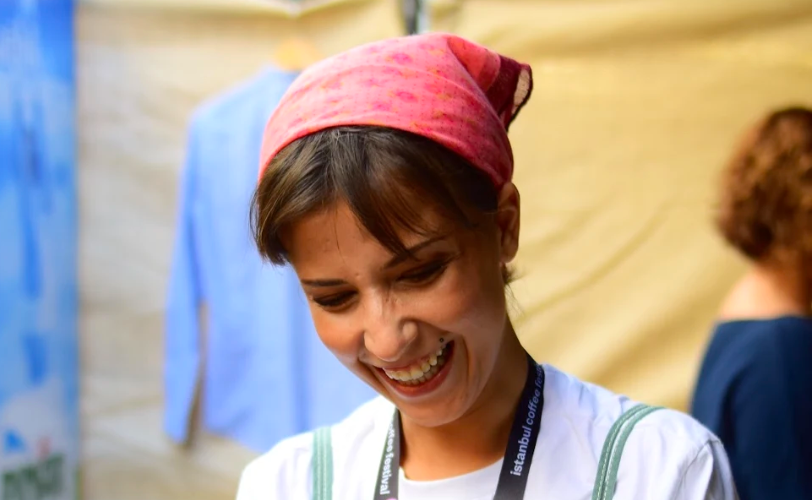 Training Log #5 by Pinar Aktepe - My current competition brewing recipe
In the 2018 National Barista Championship in Turkey, I used a coffee from El Salvador. It came from the farm La Esperanza in the region of Chalatenango, and was farmed by Mr. Roberto Adonay. It was a micro lot which means that instead of processing a big amount of coffee cherries at the same time as you traditionally would do, the farmer picked only the best cherries and kept those separate from all others through all the parts of the processing process. The lot was only 35 kg of green beans in total. When I brewed my espresso, I used 20 grams of coffee and 42 grams of volume. This profile gave me more sweetness, balance, and complexity. When we tasted, we reached flavors of cherry, fruit wine, and red grapefruit. The body was the medium and after taste was very long and sweet with notes of dry fruit.
When I competed at the World Barista Championship, my coffee was from a farm located in the western town of Gesha. The name of the farm was Gesha Village and since 2011, using their varietal gardens, experimental processing and attention to details in all steps of the process they have been producing some of the most beautiful tasting coffee in the world. When I brewed my espresso, I used 19 grams of coffee with 45 grams volume with 91-degree temp. This made my extraction longer, which opened up the flavors in the espresso but still kept the sweetness. I am usually letting the espresso cool down to make the flavour more intense and sweetness higher. It was giving upfront, flavors of peach & bergamot followed by jasmine. The after taste was sweet tropical fruits, especially mango. The body was light/medium, and the after taste was long, vibrant, and sweet.
The year following in my National Barista Championship where I took 2nd place, I used Nicaragua Limoncillo. It was a new style of coffee because the farmer asked himself, what happens if we instead of mixing these beans with our commercial coffee, separate them, and process them as a single lot. They did, and the result was the first-ever yellow pacamara petite. A selection of smaller pacamara beans that normally would be thrown out but when carefully selected and processed as a micro lot tasted amazing. I used 20 gr of coffee with 45 gr volume, which made my espresso sweeter and the flavors clearer. It was flavor notes of, yellow plum & passion fruit with a smooth and creamy body with a long sweet, chocolatey finish. And all the time, I focused on my technique as much as possiple. It was the most important thing to serve the best espresso for the judges.